Meet Archie the Gull & Friends
Share in the adventures of characters created by
Tracy Beattie. Join Archie the Gull & his best friend
Max the Crab, as they are joined by Archie's long-
time love, Gracie the Gull, along with a host of other
loveable creatures. Together they take on life and all
the fun that living by the sea provides...

Archie the Gull
Archie the Gull is one of a
kind. He is adventurous and
yet doesn't like to travel too
far from home. He enjoys
long walks on the beach and
being chief menu taster for
the local restaurants.
Unfortunately for Archie, his best friend Max the
Crab is never far away and is always ready to
torment him. Happily, his long-time love Gracie the
Gull provides a steadying and calming influence in
his life as they take on life by the sea.
Did you Know

? Seagulls pair for life, and as
parents, both take turns in incubating the eggs,
feeding and protecting the chicks.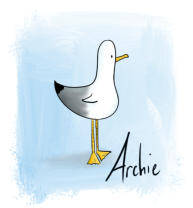 Max the Crab
Max is a cheeky crab with a
mischievous nature. He
never tires of exploring
either land or sea. He loves
to play practical jokes –
particularly on Archie the
Gull, who never sees them
coming. Archie has been his best friend for as long
as Max can remember, although Archie sometimes
wishes he'd had Max for lunch when they first met.
Did you Know

? Crabs communicate via sound.
They produce drumming and flapping sounds
using their claws and pincers.
Gracie the Gull
Their eyes met over a calm
sea at sunset, and it was love
at first sight for Archie.
Gracie began to see his
charms when he began
bringing her the best fish of
the day, and little by little she
began to fall in love too. Gracie loves to travel, but
her heart is forever at home with Archie, to whom
she always returns. Her favourite time of day is just
after sunset as her and Archie silently watch the
stars come out one by one after a day well-spent.
Did you Know

? Seagulls are very clever; they
can learn, remember and pass on behaviours to
each other, like dropping shellfish in the air to
break the shells easier.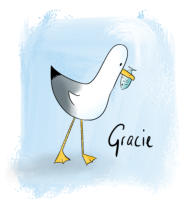 Oscar the Oystercatcher
Unlike other Oystercatchers,
Oscar believes he should live
up to his name and only eat
Oysters, preferably while
listening to Bach. He finds it
unfair that people compare
penguins to men in tuxedos,
as he thinks he looks just as dashing – and not at
all comical as some would suggest. He has a
fondness for fine dining and the opera, although
he usually doesn't meet the dress code
requirements to attend either.
Did you Know

? Oystercatchers live 12 years on
average, but the longest on record lived 40
years!
Lucky the Limpet
Nobody has told Lucky that
Oscar the Oystercatcher will
never eat a Limpet – he is
more likely to befriend them
and take them

to

lunch
rather than have one

for
lunch. She lives in fear of
him, and shuts her shell tightly at the sound of Bach
(Oscar's favourite music). Lucky believes she has
only survived this long because she must be as lucky
as her name would suggest. On carefree days, she
likes to roam from rock to rock and to surf and
explore the tidal zone.
Did you Know

? Limpets move all around the
rocks when the tide is in, but always return to
their favourite home spot when the tide goes
out.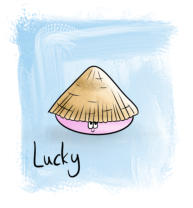 Hank the Hermit Crab
Hank is the original camper-
van owner – he's been
bringing his home with him
since he was little, and yes,
he likes to live by the beach.
He moves house from time
to time, when he outgrows his old home. Carrying
his home along with him, Hank is a free spirit, and
sociable. He may rarely come out of his shell, but
he is happy and outgoing. He resents the fact that
people think hermit crabs are quiet & unsociable; a
prejudice he seeks to eradicate through
educational initiatives.
Did you Know

? Hermit Crabs breathe through
gills, and their shells help keep the gills moist,
allowing them to still breathe out of water.
George the Puffin
George the Puffin loves
island life; he has many
fond memories as a little
puffling on the rocky island
just off the coast, and still
likes to spend his summers
there. He's a traditionalist at
heart, and loves the strong community aspect of
island life. He likes to look dapper, and when he's
not preening himself, he enjoys taking evening
strolls on summer evenings to catch up with old
friends.
Did you Know

? Puffins only sport their bright
orange beaks in spring & summer. They spend
their winters at sea, and their beaks change to
a dull grey colour.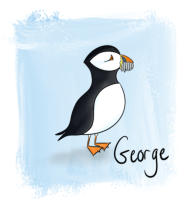 Harriet the Seal
Harriet has a curious nature
and likes to explore her
surroundings, both above
and below the waves. She
has a particular interest in
human-watching, and takes
advantage of the busy
summer months to observe this fascinating
species. She enjoys watching their curious boating,
beach and land activities, and eavesdropping on
their conversations sometimes makes her laugh.
After a hard day of splashing around, she likes to
relax on the rocky shores.
Did you Know

? The common, or harbour seal
gives birth to one pup in the summer; their milk
is so rich in fat, the baby seal can double it's
16kg birth weight in just a few weeks.
Elsie the Whale & Baby
Ruby
Elsie is a whale with a
calm and unflappable
nature. She has travelled
the globe and nothing
phases her. She tries her
best to live in the moment
and enjoy the full
experience life has to offer. She is a keen singer,
and her fellow sea creatures enjoy listening to
her soothing ocean lullabies from many miles
away. Elsie has became a Mummy to baby Ruby,
who now joins her on all her world singing tours.
Ruby is a little whale with a big heart, and a huge
zest for all that ocean life has to offer.
Did you Know

? Whales only sleep with half
their brain at a time, allowing them to swim
and continue returning to the surface to
breathe.
Stella the Starfis
h
Stella has always been
curious about other worlds,
particularly those beyond
her reach. She has held a
passion for astronomy
since she was little and
Solomon the Octopus
taught her about stars in the sky. On clear nights
she likes to lie in her favourite rock pool and gaze
at the multitudes of stars in the heavens.
Did you Know

? Starfish don't have blood, but
instead pump seawater around their bodies to
deliver vital nutrients.
Solomon the Octopus
Ever since Solomon
learned to read, he has
always loved to learn, and
so it was a natural
progression for Solomon to
become a teacher - just like
his Mum before him. With
eight arms, he can handle the most unruly of
pupils - even Max the Crab soon learned that his
crafty tricks were no match for teacher Solomon.
He believes that no matter how young or old you
are, there are always new things to learn - and fun
to be had.
Did you Know

? Octopuses have blue blood, and
have three hearts to pump that blue blood
around their bodies.